Have you been thinking of how to share SMS Units with your friend on www.gbestsms.com? then, here is a step-by-step guide to help you.
To transfer some of your SMS units to another member, you need to log in at www.gbestsms.com. If you are not a registered member, please click here to register
2.    Visit www.gbestsms.com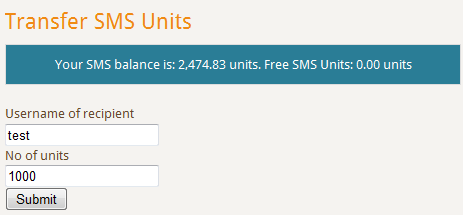 3.    Click on Transfer Units on your User menu
4.    In the first text-box, type the username of the gbestsms' member who will be receiving the SMS units
5.    In the second text-box, type the amount of the SMS units you will like to transfer to the above specified member.
6.    For this transaction to be successful you need to correctly spell the member's username and you must have more SMS units in your SMS account than you are transferring.
7. Click "Submit" to complete the action
8. Your transaction will be confirmed and an SMS alert will be sent to the recipient of the SMS units